CENTRAL NEWS
Historically, revolutionary fights have always been seen in a particularly ambitious or unrealistic light. Each and every revolution in history has had to work with society in a relentless and cohesive way, to convince the deciding power of the world that their idea is worth fighting for. Thus, this support by society has always determined the strength of a revolution.
A more recent non-example of this was the US elections where Trump who had blocked his ears to the peoples' demands of decent healthcare, economic opportunities – or even a non-racist government- until he lost the elections. After losing the elections, Trump sought to take shelter in the conscience of the people by claiming his votes were stolen and that he was cheated.
It comes as no surprise that the conservative forces of dictating regimes want to maintain their privileges and therefore carry out anti-propaganda against those devoted to changing the current-system. This was made evident in the example of the noble clergy who propagated to the people that the King was God on earth, and so his word was the final and everyone had to accept it, for example. Thus, different, oppressive regimes have come and gone throughout our recent history. One thing that has never changed, though, is the class of oppressed vs the oppressors.
As a society, the peoples of the Mesopotamia have always resisted against domination and the new concept of civilization that had come to be created by the states of the firsts great empires (e.g. Sumerian, Babylonian, Assyrian, Persian). The state-mentality was responsible for the rise of the man-warrior being controlled by the elder man, giving rise to the patriarchal spiral of violence and belittlement. With time, this violence led to the total-surrender and enslavement of the woman.
Utopia according to the dictionary:
"What is in the realm of the unachievable; that tends not to come true; chimera, dream; fantasy."
It was neither once nor twice that you probably heard from a colleague or family member that believing in utopias is counterproductive. It is generally described as something which removes you from "reality" or leads to fantasizing. This, is unfortunately described as a negative quality. But why do we like to dive into such thoughts? Why, especially in our youth, do we tend to believe in the impossible? Why young people made to believe that these thoughts and feelings are a temporary phase of life, or that time will teach you to be realistic and even-tempered? Is it a coincidence that throughout history, the youth has always been at the heart of revolutions? Marx says that "Revolutions are the locomotive of history." He could have also added that youthfulness is the fuel of this locomotive! Or is it escapism?
Within the reality of capitalist modernity there are two subconscious paths for youth: Either they accept the cold and ugly life being imposed on them and live an alienated life, wasting away for superficial values; or they decide to feel and question themselves about the concerning reality that surround us.
Dystopia according to the dictionary:
"Hypothetical place where one lives under oppressive, authoritarian systems of deprivation, loss or despair; anti-utopia."
Dystopias are well-known in the world of Hollywood which constantly develops fictional narratives of dystopian systems where the absurd is the normal, where people are disposable, tyrants are the owners of the world, technology controls human beings, etc. The renowned "Black Mirror" series is a good example of a dystopian world, as well as the franchise "Hunger Games" or "Matrix". As the list goes on, and on, we begin to wonder why such movies tend to attract so much attention by young people.
Why are such films generally narrated as critiques of reality, whether or own or of humanity altogether? The truth is that with the advances of the technological revolution and the normalization and acceptance of the capitalist mentality, we have been living in a dystopian world for a long time… The regime of truth no longer exists within capitalist modernity and what we are seeing around the world is people living according to their own truth. The Moral and Ethics of society has been constantly attacked, and worse of all, these attacks are made by those who claim to be acting on behalf of this same morality and ethics.
One example to clearly contextualize the absurdity that life has become under capitalist modernity is the fact that China is trying to create a "moral" society through a system of points and complete social surveillance.
Every citizen in China receives a mandatory e-ID card from the age of 16, in which all important and personal data is stored. This data is then stored in a huge device that is networked with all possible authorities. This technology uses a dot model, to praise "good citizens" according to terms outlined by the Chinese government. While points are added for "good citizens," points are deducted from "bad citizens."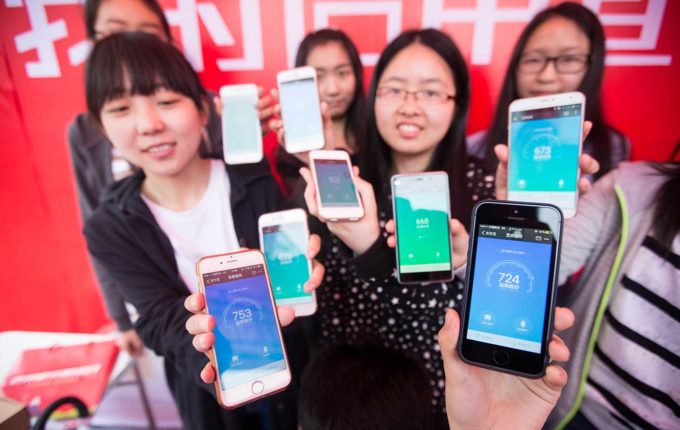 Examples of being a "good citizen" include giving blood, collecting garbage, or helping the elderly across the street. Such acts eventually enable a citizen to gain points, which may mean they are rewarded with shorter waiting times at hospitals, priority access to universities or schools, etc. Likewise, points are deducted if you cross the street at a red light, listen to loud music on public transportation, don't visit your parents often enough, steal, play a lot of computers, etc.
But it is not necessary to look for a dystopian example of this magnitude, every day society is surrounded and involved in virtual relationships developed by 'technological advancement' which are taking us away from what makes us human in the first place. In the same way that the contemporary industrial revolution ended the workforce of millions of workers who were replaced by machinery and abandoned on the margins of society, the new technological revolution presents the same risk. However, this time the focus and objective is not the practical workforce but the intellectual workforce…with the development of artificial intelligences in all possible ways, the human mind and its complexity has been rapidly replaced by computers and technologies previously thought that they would be used by the general public 50 years ahead of us.
The controversies involving the development of art through the use of AI and now, texts, books, poems, data analysis, etc., call into question our role as humans and our greatest natural asset, which is our critical thinking. At an extravagant and dangerous speed, the human race is giving up what makes them human in itself, giving up criticizing, rethinking, self-questioning and 'frying the neurons' to make room for an artificial mind that answers questions and solves problems ready. If these technologies were being used for the development of society, for the human needs of health, housing, transportation, hunger and many other problems, it would be something welcome and an important advance in our history. However, it is clear that these technologies produced by capitalist modernity are at the service of those in power, those who do everything to control it and that it is clearly being used precisely for the destruction of nature, society and the critical mind.
Geoffrey Hinton, one of the pioneers in the development of Artificial Intelligence, resigned from Google in order to be able to warn more freely about the dangers of this technology. Often referred to as "the godfather" of AI, Hinton asserted that, at the age of 75, he now regrets having devoted his career to this subject. "I console myself with the normal excuse: if it weren't for me, someone else would have done it", he pointed out to the New York daily. His voice of alarm joins those of other experts who have expressed concerns in recent months, especially after the launch of text products such as the already popular ChatGPt and the big bets that technological conglomerates are making in this area. In the short term, this expert fears that the internet will be flooded with fake texts, photos and videos and that citizens may not be able to distinguish what is real, but also that these technologies could replace many workers and, in the long run, even represent a threat to humanity.
European countries are quickly closing in, with softer-assimilation policies, to create a distortion between realities. Living under constant surveillance but having narrower sight than a horse with blinkers, people already normalize the exploitation of those who are not seen – a reality which subjugates women from the most personal to the most sociable levels and assaults them at every moment. In today's reality in Europe, the haphazard destruction of nature doesn't really concern people so long as the trees in their garden are still standing. Nor does human life have value, where it is compared to economic profit.
Whether in the hands of a multinational and multimillionaire company, or an ordinary citizen who believes to be living his own humble reality and life, an individualist approach in society will surely break the spine of Europe.
The book Capitalist Realism by Mark Fisher, author who committed suicide for suffering from the theme that he himself describes in his work – the contemporary depression that is one of the worst evils that plagues our society, has its origin precisely in the virtual reality that surrounds us and it deceives 24 hours a day – how capitalism has reached the point where it carries out its inhuman projects of discrepant and clear force but no longer causes commotion and reaction in society because it is seen as the only alternative, the reality which surrounds us.
Rêber APO, Abdullah Ocalan, pointed out in his third book of the Manifesto for a Democratic Civilization about the same dangers and the way in which capitalist modernity is organizing and advancing. However, unlike the work of Fisher and other 'anti-capitalists', Rêber APO presents the solution to the problem in the construction of Democratic Modernity, based on the practice of Democratic Confederalism – already lived and experienced in Kurdistan, which has as its pillars the Liberation of Women, Ecology and Direct Democracy. Only the construction of a socialist and anti-capitalist alternative can save humanity.
As Rêber APO says: "The insistence on socialism is the insistence on humanity"